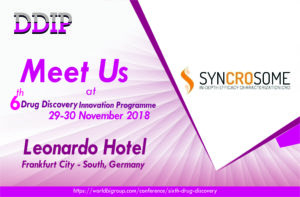 The 6ThDrug Discovery Innovation Programme will feature 2 days of interactive presentations, poster presentation and networking opportunity, in Frankfurt (Germany) from 29 to 30thof October. This conference will offer a complete programme focusing on preclinical animal models, breakthrough technologies :
Target engagement
Advances in medicinal chemistry
Pre-clinical pharmacokinetics
Modern approaches for drug design
Role of AI in drug discovery
Open innovation…
Syncrosome is happy to host a booth and participate to the networking event.
Syncrosome provides a complete service in Preclinical Efficacy testing from in vitro to in vivo testing and trough biodisponibility studies on rodents and non-rodents species. Our multiple skills, combined with scientific background and 18 years of expertize results in fruitful collaboration with Pharmaceutical and Biotech. Companies.
For additional information on our conference participation or to schedule a meeting with Emmanuelle Bettendorf, please email us.