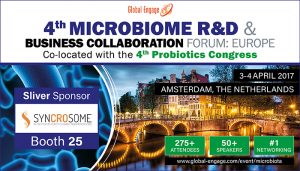 The 4th Microbiome R&D and Business collaboration Forum will feature 2 days of interactive presentations, poster presentation and networking opportunity, in Amsterdam (Netherlands) from 3 to 4th of April. This conference will offer a complete programme focusing on preclinical animal model and specific focuses :
Probiotics and Digestive Health (Roles in in IBS management…)
Microbiome in Health and Disease (IBD, CNS disease…)
Skin Microbiome and Dermatology
R&D out site the gut (Gut-brain interactions, Microbiota and COPD, Asthma…)
Syncrosome is happy to host a booth and participate to the networking event.
Syncrosome provides a complete service in Preclinical Efficacy testing from in vitro to in vivo testing and trough biodisponibility studies on rodents and non-rodents species. Our multiple skills, combined with scientific background and 15 years of expertize results in fruitful collaboration with Pharmaceutical and Biotech. Companies.
Come on our booth N°25 and visit us
Meet Emmanuelle, your Business contact at Syncrosome since 2009
Discover our new in vitro and vivo models
Discuss your preclinical project with experts and save time on your project
Looking forward to seeing you soon,
Syncrosome team
To schedule a meeting with Syncrosome representatives, please email Emmanuelle Bettendorf, your preferred preclinical CRO contact!